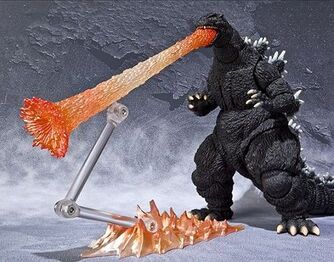 S.H. MonsterArts is a line of action figures based on Japanese fictional sci fi monster "Godzilla". It's one of Tamashii Nations figure lines. Same thing like Ultra-Act figure. The figure itself is added with lighting effects.
List of Toys
Edit
Godzilla 1964
Biollante
SuperXII
King Ghidorah 1991
Mecha King Ghidorah
Mothra 1992
Mothra Larva 1992
Battra
Battra Larva
Godzilla 1993
Mechagodzilla 1993
Fire Rodan
Garuda
Space Godzilla
Moguera 1994
Little Godzilla
Burning Godzilla
Meltdown Godzilla
Destoroyah
Destoroyah forms
Godzilla Jr.
Adult Godzilla Jr.
SuperXIII
Godzilla 2000
Godzilla 2000 (color version)
Kiryu 2002
Kiryu 2003
Gigan 2004
King Kong 2005
Godzilla 2014
Red Godzilla 2014
Godzilla 2014 (spit fire version)
External links
Edit
Ad blocker interference detected!
Wikia is a free-to-use site that makes money from advertising. We have a modified experience for viewers using ad blockers

Wikia is not accessible if you've made further modifications. Remove the custom ad blocker rule(s) and the page will load as expected.