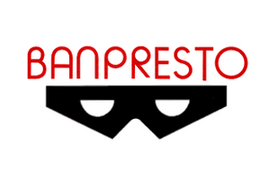 Banpresto Co., Ltd. (株式会社バンプレスト Kabushiki-gaisha Banpuresuto?) (TYO: 7854) is a Japanese toy company, best known in America for game development, headquartered in the Shinagawa Seaside West Building in Shinagawa, Tokyo.[1] It was founded April 1977 as Hoei Sangyo, Co. Ltd. The company was renamed Coreland in 1982, and during the 1980s it worked mainly as a subcontractor for Sega and its arcade division.[2] It has been partially owned by Bandai since 1989, when it gained its current name.[3] It was purchased by and became a wholly owned subsidiary of Namco Bandai Holdings in March 2006.
Banpresto has created a variety of Japan-only video games, most notably the Super Robot Wars series, which gained such a fanbase that two games of the series were translated and released to the US market. Other projects include anime tie-in games such as the Slam Dunk basketball games and Tenchi Muyou! Game Hen. Banpresto also makes several varieties of mechanical prize-winning games. As Coreland, the company was responsible for the well-known classic arcade game, Pengo, published in 1982 by Sega. Banpresto's video game operations were absorbed into Namco Bandai Games on April 1, 2008. As part of the merger, two of Banpresto's subsidiaries, Pleasure Cast Co. Ltd and Hanayashiki Co. Ltd, became Namco subsidiaries. Banpresto itself now focuses on its prize machines business.[4]
Banpresto is one of Bandai's partner.
Mostly Banpresto's releases was a videogame & DBZ Figures.
Ad blocker interference detected!
Wikia is a free-to-use site that makes money from advertising. We have a modified experience for viewers using ad blockers

Wikia is not accessible if you've made further modifications. Remove the custom ad blocker rule(s) and the page will load as expected.